Every Dungeons and Dragons (DND) adventurer knows that choosing the right dice is like selecting the perfect sword. This Haxtec DND Dice Set review aims to shed light on whether these dice can be your trusty blade on your quest for the ultimate gaming experience.
So, grab a seat by the fire, fellow traveler, and let's review this dice set! We'll dive into the aestetics, how they roll, and the few quirks we encountered.
Jump to Section
What is Haxtec DnD Dice Set?
This post may contain affiliate links, which means that I may receive a commission, at no cost to you, if you make a purchase using these links.
Related posts:
The Best Dark DnD Campaign Ideas of 2023
The Best DnD Animal Trophy Ideas in 2023
The Best DnD Pirate Campaign Ideas of 2023
The Best Ideas for Sentient Weapons for your D&D Campaign (2023)
Funny DnD Campaign Ideas to Lighten Up Your Table! (2023)
What is Haxtec DnD Dice Set?
The Haxtec Ancient Metal D&D Dice Set is a set of 7 meticulously crafted metal dice designed for passionate role-playing gamers includes all the essentials: 1xD20, 1xD12, 2xD10 (one 00-90, one 0-9), 1xD8, 1xD6, and 1xD4.
An embossed PU Leather Dice Bag is included for easy storage and transportation.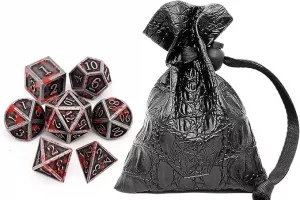 Crafted by Haxtec, a dice manufacturer with warehousing spanning across the US, UK, Canada, Germany, and China, these dice have garnered nearly 18,000 Amazon reviews with an impressive average rating of 4.8/5. Such widespread acclaim piques my curiosity, and I'm so eager to uncover the reasons behind their popularity.
Without further ado, let's dive into the review!
---
Aesthetic Appeal
The Haxtec DND Dice Set boasts a visually captivating design that promises to elevate your gaming experience to new heights. Each side of the dice displays a sticker placed over the surface with a resin coating to create a seamless surface on each face.
Although it doesn't significantly detract from the overall experience, individuals who favor numbers etched directly into the metal of the dice might find this design aspect less appealing. But on the plus side, this sticker-and-resin approach maintains readability and contributes to the set's distinctive aesthetic.


Also, for individuals with a preference for larger or more prominent visuals, it's worth noting that the blood splatter design on these dice may appear relatively small. Different tastes in aesthetics might lead some to seek a more pronounced or noticeable blood splatter effect during gameplay.
Weight
In this Haxtec DND Dice Set review we're also looking into the weight of these dice and let me tell you, beware! The Haxtec DND Dice Set is impressively heavy. In fact, they're so heavy that a heavy throw could potentially dent a wall, I kid you not.
But for me, the weight only enhances its appeal since it's able to deliver a gratifying sensation during rolls. Consequently, it's vital to adapt your rolling technique, as these dice demand a more robust wrist flick compared to the lighter resin dice you may be familiar with.


Color Change
While the color change feature in The Haxtec DND Dice Set may not seamlessly transition as expected, a touch of warmth and a bit of patience coax these dice to reveal their transformation. Holding them in your hand for a while activates the color change, but honestly, it doesn't happen as quickly as anticipated.
With regular use, I'd like to think that these dice might gradually accelerate their chromatic shifts, injecting a dynamic and captivating element into your rolls.
Observing the hues evolve is truly delightful. However, manage your expectations in case the color transformation doesn't occur as swiftly or as vibrantly as you might anticipate.
Verdict
In conclusion, the Haxtec DND Dice Set is a mix of beauty and functionality. Though not without its quirks and personal preferences, it's undeniably capable of bringing an extra dimension to your gameplay.
It may not be the perfect fit for everyone, particularly those accustomed to standard-sized metal dice, but it holds its own unique charm.
If you're looking for a thoughtful and relatively inexpensive gift for the gamer in your life, The Haxtec DND Dice Set, falling in the midrange pricing category, makes for a great gift choice. Whether for a friend or yourself, it's a charming addition to any dice collection.
Overall Rating: 3.8/5
More?

I hope the review of the Haxtec DND Dice Set shared above has been helpful for you! If you're seeking campaign ideas or character concepts for your next DnD campaign, please browse our Story Ideas & Writing Prompts category!
Have any question or feedback? Feel free to contact me here. Until next time!