The internet is full of free resources, but sometimes it can get overwhelming. I've scoured the sea of information and here's a NaNoWriMo PDF compilation that, I think, will help me solidify my game plan for 2022 NaNoWriMo. Below is the compilation!
Jump to Section
This post may contain affiliate links, which means that I may receive a commission, at no cost to you, if you make a purchase using these links.
Related posts:
11 NaNoWriMo Plot Ideas We Love
10 Riveting Family Drama Story Ideas
How to Win NaNoWriMo: All the Tips and Tricks You Need to Know!


What is NaNoWriMo?
A month-long writing challenge starting every November 1st, National Novel Writing Month has jumpstarted many writers' writing careers, including Erin Morgenstern with her novel The Night Circus (2012), Sara Gruen with her novel Water for Elephants (2007), and many more!
No wonder that its participants only grow every year as it is a great exercise to stretch that writing muscles.


A List of Useful NaNoWriMo PDF Compilation
It could be a challenge to write 50,000 words in the course of a month, which translates to 1,667 words per day. But with the right tools, at least we can try to tip the balance in our favor. Fingers crossed. So dive right in!



1. Visual Plotting Guide
Struggling with plotting? Use this free visual plotting guide that comes with a thorough explanation of all the necessary components of a good novel and maps out a step-by-step guide, with spaces to brainstorm and draw your scenes out.
All you need to do is… start scribbling!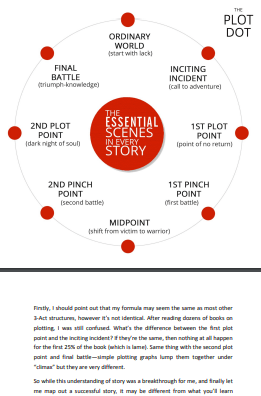 2. One-Page Novel Plot
This One-Page Novel Plot will help you organize your story with just a single page. You can find the direct link here, and here's a lil' snippet. It's readily downloadable and moreover, you don't have to sign up for anything.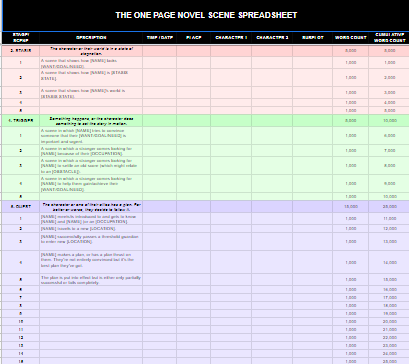 It's an Excel spreadsheet containing all the outline you need to create an engaging novel with all the story beats listed in one page and all you need to do is fill out the details! The spreadsheet also breaks down each plot into an estimated word count so that you have a 50,000 when you reach the end of the outline.
So sit down, and get to planning your novel!


3. Character Profile
This free character profile PDF from Reedsy (download here) will help you figure out the character beats for your character from the basic stuffs to the more complex ones like their family background and their psyche.
This one requires a sign-up that will include you in Reedsy mailing list, but if you absolutely dig the visuals, go for it. Besides, you can always unsubscribe anytime.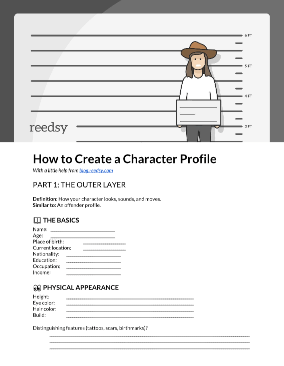 You'll have tons of fun filling this one out!
TIPS:
Another fun, and rather quick way to create a character profile is to take a personality test where you answer the questions as your character. A method I like is the MBTI personality test, which you can take here, but any other test will do. This is a snippet that I took from the MBI personality quiz.
So, for example, let's say I'm taking the test as my vampire character. My answer to this question would be to strongly disagree. Yeah, he's one lonely, angsty guy 🙁 Answer a set of questions like this, and by the end of the quiz, you'll surely have a better idea of who your character is!

A snippet of the MBTI personality test


4. NaNoWriMo Word Count Tracker
I enjoy tracking things with real pen and paper, as opposed to doing it digitally. If you're like me, you'll like this PDF printout to track your progress.
It also doesn't hurt that it's so pretty! You can find the PDF here. It's readily downloadable in their website and moreover, you don't have to sign up for anything at all.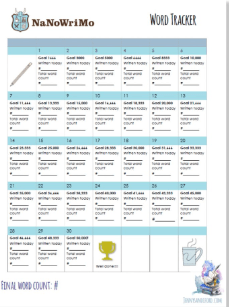 5. NaNoWriMo Workbook
This free printable workbook from InkWellSpills is pretty neat. In this multiple pages workbook, you have a comprehensive plot tracker, a world-building worksheet, characters page, planners, project overview, and many more. Download it here.
It has everything you ever need to write a story, the graphics are pretty, and moreover, you can download it without signing up for anything. Below is a snippet of how it looks like: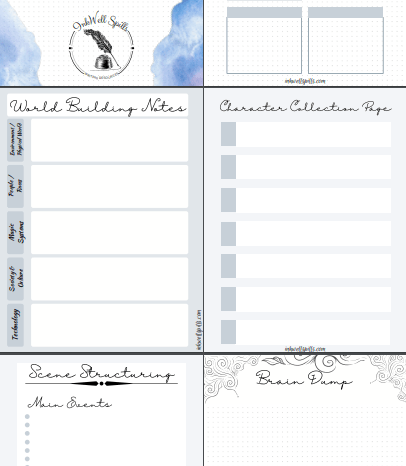 6. NaNoWriMo Writing Prompts
To round it up, we have a list of writing prompts that you can scribble on from my blog post 11 NaNoWriMo Plot Ideas We Love containing 11 writing prompts in Adventure, Romance and Platonic Relationship genres.
You can access it in a printable format here.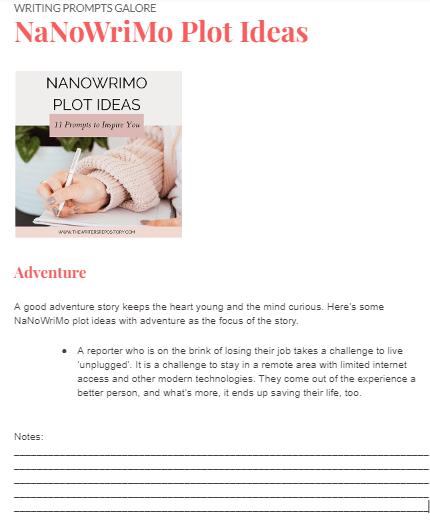 7. Other Resources
Alternatively, there are some pretty awesome guides out there that you can buy to help or get you started on your NaNoWriMo journey, such as the ones below.
*
This book gives you a well-organized space to develop memorable characters so you can dispose of those complicated sticky notes system you have up on your wall. A sneak peek of the book is available when you click on the image.
*
Roy Peter Clark, America's famous writing teacher, compressed over thirty years of expertise into a collection of advices on various areas of writing. This is a classic tool for amateur and professional writers alike. A sneak peek of the book is available when you click on the image.



More?
Here are some other relevant posts:
Or browse our Story Ideas & Writing Prompts category for more ideas! Until next time!