Looking for unique urban fantasy story ideas and writing prompts to spark the imagination? You've come to the right place! Read on for ideas like nymphs and fairies who migrate to public parks due to deforestation, or dragons who nest inside of bank vaults!
Enjoying what you read? Buy me a ko-fi here, which will always be greatly appreciated 🙂
This post may contain affiliate links, which means that I may receive a commission, at no cost to you, if you make a purchase using these links. As an Amazon Associate I earn from qualifying purchases.
Related posts:
Vampire Romance Writing Prompts
Dragon Story Ideas
Enchanted Forest Story Ideas
22 Spellbinding Witch Story Ideas
Deep Dark Fantasy Ideas
Werewolf Story Ideas and Prompts
The Definition of Urban Fantasy
Urban fantasy is a type of fantasy that incorporates fantasy elements into a contemporary urban setting. In addition to reducing the need for extensive worldbuilding, this combination allows for the inclusion of contemporary problems into an otherwise fantasy-heavy narrative.
The success of Stephen King and Anne Rice's urban fantasy works in the 1980s has sparked the interest in this subgenre, paving the way for popular urban fantasy novels such as City of Bones by Cassandra Claire and American Gods by Neil Gaiman.
Some other seminal works of the subgenre include the 1992 series Highlander and Buffy the Vampire Slayer TV series.
Urban Fantasy vs. Paranormal Romance
Urban fantasy is often confused with paranormal romance, which is understandable considering that they share many similar elements. Author Jeannie Holmes highlighted the difference between urban fantasy and paranormal romance in an online commentary:
The two share 90% of their genre DNA. However, the main differences are this: Urban fantasy focuses on an issue outside of a romantic relationship between two characters. Paranormal romance focuses on a romantic relationship between two characters and how outside forces affect that relationship. The best litmus test to determine if a story is urban fantasy or paranormal romance is to ask the following question: 'If the romance between Character A and Character B were removed, would the plot still stand as a viable storyline?' If the answer is 'yes,' chances are good it's urban fantasy. If the answer is 'no,' it's most likely paranormal romance.
Urban Fantasy Story Ideas & Writing Prompts
Without further ado, below are some enticing urban fantasy writing prompts and story ideas to stoke the imagination!
Please note that the genders in these starters are just placeholders and do not mean to enforce any hurtful stereotypes nor offend anyone.
---
Manuscript Critique
---
Visit the School of Positive Transformation for
High Quality, Accredited Well-Being Courses
here.
---
Social-Emotional Learning (SEL) Books
---
Urban fantasy story ideas
From werewolves to dragons and anything in between, here are some fun urban fantasy story ideas!
1. In a bustling city where magical creatures are disguised as everyday objects, a timid barista discovers a hidden world of mythical beings within their shop.
2. In a gritty urban setting, a reclusive writer discovers that her fictional characters have come to life and are wreaking havoc in the city.
3. In a city where forgotten memories manifest as physical specters, a young woman with the rare ability to manipulate memories becomes a memory hunter, all while confronting her own fragmented past.
4. A werewolf who provides service as a professional tracker, from missing things to missing people to missing pets. Imagine a werewolf detective who's trying hard to focus on the task at hand but he keeps getting distracted by a ball! (Hand-picked from my post Werewolf Story Ideas and Prompts)
5. A veterinarian gets infected with lycanthropy, and all his animal patients can smell that something is wrong with him.
6. A dragon nests inside of a bank vault and decides that whatever riches inside of it is his.(Hand-picked from my post 21 Dragon Story Ideas).
7. Three witches live in a small house in a neighborhood that is undergoing rapid gentrification, and they're doing all they can to spite the executives of the real estate development company who are vying for that last available piece of land. (Handpicked from my post 22 Spellbinding Witch Story Ideas.)
8. A woman is asked to identify a dead body, only to be confronted with a shocking discovery when she realizes that it's her own. The incident leads her down the rabbit hole, uncovering the long-hidden family secret of a powerful witch lineage.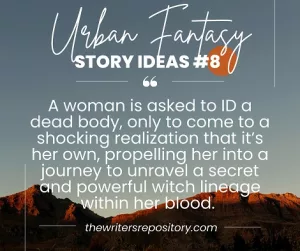 9. In a city where emotions are tangible and can be harvested for power, a gifted empath becomes entangled in a dangerous conspiracy when she discovers a way to manipulate and control emotions.
10. In a city where shadows hold secrets and nightmares come to life, a young woman with the ability to manipulate shadows becomes an unlikely hero tasked with protecting the city from malevolent shadow creatures.
11. Due to rapid deforestation, the fairies and nymphs have migrated to urban zoos, indoor gardens, and public parks.
12. After a freaky accident, a man develops the ability to see a color he's never seen before in his life. He begins following the color that appears in splashes all over town until he finally finds a door painted entirely in that color. What happens next? (Originally appeared in my post 14 Charming Fantasy Romance Story Ideas.)
Urban fantasy picture writing prompts
Here are some picture-based urban fantasy writing prompts, because, a picture speaks a thousand words! Below are some image prompts as well as some prompt ideas to accompany each.
(Please click on the image for more information.)
1. An enchanted, ancient mirror kept inside of a museum houses the elixir of life, and only a certain people can reach into the mirror and obtain it.
2. An enchanted, ancient mirror in a busy museum is a portal to another world.
(Please click on the image for more information.)
1. A fallen angel receives a second chance at redemption with the caveat that they must successfully show a teenager the path to the light side before that teen dies in a traffic accident a month from now.
2. All sorts of graffiti seem to pop up in every corner of the city overnight, with no apparent reason. But one witch knows better. Those graffities contain hidden messages that say…


More?
There they are, 16 urban fantasy story ideas that hopefully will get your inspiration going! For more story ideas and prompts, please browse our Story Ideas & Writing Prompts category!
Have any question or feedback? Feel free to contact me here. Until next time!