Looking for enticing visual novel story ideas? You've come to the right place!
Read on for ideas like a novelist who gets sucked into a VR game and has to face retaliations from the characters in his stories, or a princess who rejects an arranged marriage in favor of eloping with her bodyguards, and many more!
(The illustration picture is By TheAwesomeHwyh, User:Kasuga~commonswiki, Diego Delso – Own work, CC BY-SA 4.0, https://commons.wikimedia.org/w/index.php?curid=80073188)
Jump to Section
Related posts:
Enemies to Lovers Story Ideas
High School Romance Story Ideas
Mafia Romance Story Ideas
Paranormal Romance Story Ideas
Enticing Soulmate Story Ideas
Romance Story Ideas with a Unique Twist
Visual Novel Story Ideas
So, you want to write a visual novel? Let's dive in for some intriguing visual novel story ideas!
I hope the ideas below are original although, undoubtedly, something similar could have existed out there already. But the smallest details and execution matter, and make all the difference!
Please note that the genders in these prompts and story ideas are just placeholders. It is not the intention to enforce any hurtful stereotypes or offend anyone.



Romance
Romantic themes are popular because they tap into universal human emotions and experiences, such as the desire for love and connection. (An example of romantic visual novels is LoveKami Trilogy.) Here are a few story ideas in this genre:
Mystery, Thriller and/or Horror
This genre provides an escape and an adrenaline rush, making it the core appeal of horror visual novel games like "The Letter: A Horror Visual Novel." Some ideas in this genre:
1. The Mutation

A zombie slayer keeps preserved pieces of the zombie they slayed as "souvenirs", only for a freak mutation to occur one day, causing those souvenirs to come to life. (For more zombie-related story ideas, head to my post Unique Zombie Story Ideas.)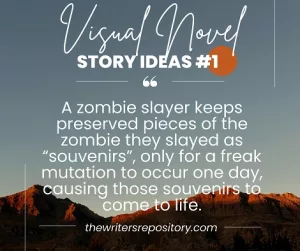 2. Seeing Double

When identifying a dead body in a morgue, a woman discovers that it's herself. Is it a case of a lost sibling, or twin sibling, or an impersonator, or a doppelganger? (For more psychological thriller story ideas, head to my post Psychological Thriller Story Ideas and Writing Prompts.)

3. Murder in the Museum

The curator of a small art museum suspects that a new artist she's working with has murdered his assistant, and that the clues are hidden in the artist's newest painting. (For more cozy mystery story ideas, head to my post Cozy Mystery Story Ideas and Writing Prompts.)

4. The Ghost Ship

An aspiring author travels to a sleepy riverside town, in which a ghost ship appears on the river every 25 years or so. When the ship eventually manifests itself, he doesn't expect to see a familiar sight on board. Based on Wyoming Death Ship urban legend. (For more urban legend inspired story ideas, head to my post Bone-Chilling Urban Legend Story Ideas and Writing Prompts.)

5. The Vigilante

A priest takes matters into his own hands after hearing a congregation member's crime confession in order to rid the society of criminals, one offender at a time. (For more vigilante-related story ideas, head to my post Vigilante Writing Prompts and Story Ideas.)


Adventure and/or Drama
Adventure and drama stories offer a chance to experience different perspectives and emotions, and to see characters overcome challenges and obstacles. An example of drama/adventure visual novel is The Great Ace Attorney Chronicles.
Here are some story ideas in this genre:
1. The Vengeance

When a novelist gets sucked into a Virtual Reality game full of all the characters he had created and "done dirty" over the length of his career, he finds out that they all want a piece of him. (For more survival-themed story ideas, head to my post Dramatic Survival Story Ideas.)
2. Mirror on the Wall

A sorcerer quickly rises to power by enchanting every mirror in the realm to behave as he wishes: as his spying tool, as a cloning device, as a portal to travel from one place to another, and more. The sorcerer could either be the protagonist or antagonist in the story. (For more high fantasy story ideas, head to my post High Fantasy Story Ideas and Writing Prompts.)
3. Sinister Smart Home

A family's move into a futuristic smart home takes a sinister turn when the house retaliates against their unintentional destruction by strategically cuts off all utilities, trapping the family inside and transforming their dream house into a high-tech prison. (For more futuristic story ideas, head to my post Futuristic Story Ideas.)
4. The Forest Sprite

Whenever someone takes a flower from an enchanted forest, a forest sprite will tag along and cause mischiefs wherever they go. (For more fantasy forest story ideas, head to my post Enchanted Forest Story Ideas.)
5. The Stowaway

A determined 18th-century journalist risks everything by stowing away aboard a notorious pirate ship in search of an extraordinary story. What will become of his plan when his presence is discovered by the ruthless crew? (For more pirate-related story ideas, head to my post Pirate Writing Prompts and Story Ideas.)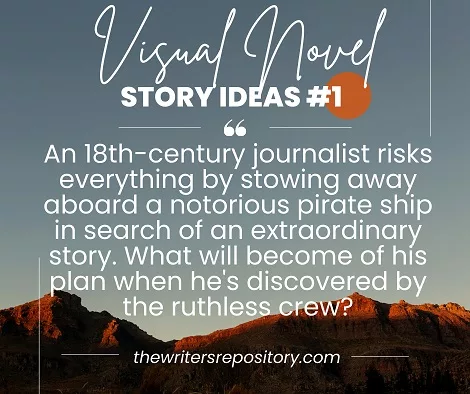 The Definition of Visual Novel
Now, let's delve a bit deeper into the genre!
A visual novel is a type of interactive fiction game that typically features static graphics, with occasionally animated characters and background, and text-based gameplay. They are popular in Japan and often focus on character development, romantic relationships, and decision-making that leads to different story branches and endings.
Common themes in visual novels include romance, slice of life, and drama. Other popular themes include mystery, fantasy, and science fiction. Some visual novels also tackle mature or controversial themes such as mental illness, suicide, and abuse. Themes can vary widely, and many visual novels combine multiple themes.


Appeal
People like visual novels for a variety of reasons.
One, they often feature well-developed characters and complex storylines that players can become emotionally invested in.
Two, the decision-making elements in visual novels allow players to shape the story and create their own unique experiences.
Three, many visual novels also include romance as a central theme, which can be appealing to players.
Four, the interactive nature of the games allows players to immerse themselves in the story and feel like they are a part of the world and characters.


Criticisms
Some visual novels, particularly those that feature explicit sexual content or themes of sexual violence, has been the subject of many criticisms. This has led to some visual novels being banned or censored in certain countries, and has sparked debate over issues such as censorship and the portrayal of women in video games.
Additionally, some people have criticized visual novels for being overly passive experiences, where the player has little agency and is simply watching the story unfold. Despite these controversies, visual novels have a dedicated fanbase and continue to be popular in many countries.


More?
I hope the visual novel story ideas and writing prompts above spark some inspiration in you!
That's all I have for now! If you need more story ideas and prompts, browse our Story Ideas & Writing Prompts category!
Have any question or feedback? Feel free to contact me here. Until next time!
This post may contain affiliate links, which means that I may receive a commission, at no cost to you, if you make a purchase using these links.